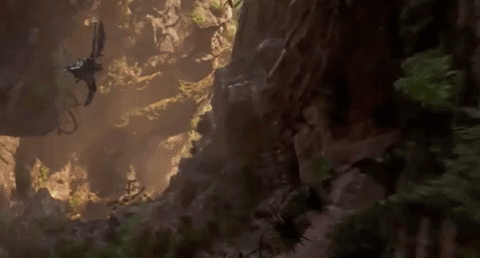 I had the chance to attend the Pandora: World of Avatar dedication and press preview of this new 12-acre section of Disney's Animal Kingdom. 
Start here: Read my full overview of the new the Pandora: World of Avatar world at Disney's Animal Kingdom.
In the new ride Avatar Flight of Passage you fly on a banshee while your soul is transported to a Na'vi Avatar matched to you. It is such a realistic and high-tech 4-D flying simulation that within the ride you truly believe you are flying. It is the single most beautiful, thrilling and fantastic theme park ride I have ever ridden.
Avatar Flight of Passage is more believable, joyous and exhilarating than any ride you have ever taken, and it is fun for all ages! I rode with children and grandparents alike and everyone loved it. No roller coaster fear is activated, as you technically do not leave the ground.
But let me back up, because before you even get to the ride itself you are already going to have to pull your jaw off the luminescent floor.
First you get to immerse yourself in the gorgeous natural landscape of the Pandora floating mountains. You cross a rope and vine bridge over a waterfall and more otherworldly blooms and plants than your imagination could conjure. Then you enter the formal ride queue within caves with Na'vi paintings, crafts and totems.
It's so cool. After walking through the world of the Na'vi you enter the Alpha Centauri Expeditions lab, located within a dark luminescent forest.
The lab is where they create the Avatars that can interact on the moon of Pandora. It feels as authentic as the Avatar film and also harkens to the DHARMA Initiative on Lost.
Feel yourself getting into it? Dive into the storytelling at VisitPandora.com. 
Here's a video courtesy of the Walt Disney World press room of the lab experience.
Then you enter into a chamber in which a video of a very believable young scientist explains how you will be matched with an avatar to which your consciousness can enter in order to fly on an ikran, or banshee. This interactive experience uses motion detectors, film sequences and other personalized tech to show you your chosen avatar and prepare you for the experience.
Then you pull on your 3-D goggles, climb onto your simulator chair…and fly! The screenshots and the POV video below do not do the ride justice. It was filmed with someone's phone, it is not in 3-D and it is without the complete sensory experiences combined. The flight does not look animated at all when you are within the experience. When you fly over Pandora's sea, you can feel the wind in your hair just as if you were truly flying. Real spray mists your face when your banshee skims the water or passes through waterfalls. You can smell the fresh green grass and clean earth below.
The key element to the realism of the ride is the banshee flight simulator motorcycle-style chair. Without over-shoulder constraints your body is free to move much like when you are on a horse…or like when the Na'vi and Avatars atop their banshees.
You just HAVE to get to Disney's Animal Kingdom this summer to ride Avatar Flight of Passage. It's a life changer!
Super cool early summer deal for those visiting Pandora: Every night now through July 4th, guests of select Disney Resort hotels can enjoy "Extra" Extra Magic Hours in Pandora, The World of Avatar from 11:00 PM to 1:00 AM through 4th of July 2017. These "Extra" Extra Magic Hours benefit is in addition to the Extra Magic Hours already available to Disney Resort hotel Guests at Disney's Animal Kingdom park. Learn more.
I was a guest of Walt Disney Resort for the Pandora press opening. No monetary compensation received. All opinions are my own.